Let's keep it digital. With Mobile Banking, Apple Pay®, and a Debit Mastercard®, this student checking account gives you everything you need without any hassles. This account is designed especially for Students by keeping it simple and easy to maintain.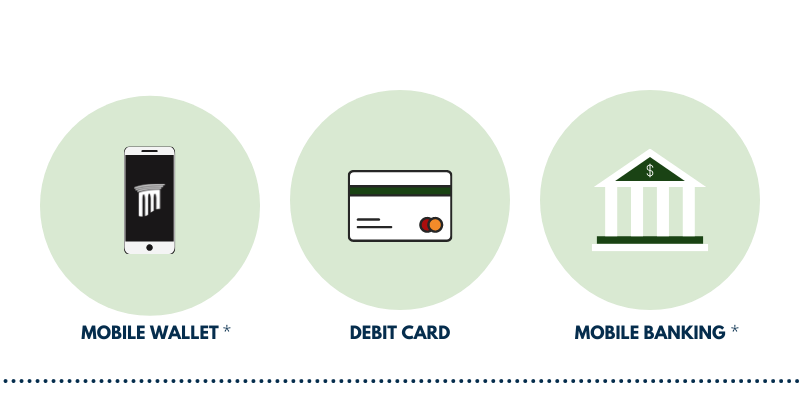 Frank's Student Checking Features
Available for students ages 14-23
Bank of Frankewing Debit Mastercard®
Online Banking with optional Online Bill Pay and e-statements*
Mobile Banking*
No monthly maintenance fees
No minimum balance
Low opening balance of $25.00
No ATM fees within the Bank of Frankewing ATM network
No paper statement (all information is available via online and mobile banking)
Personal Checks Available

Important Account Information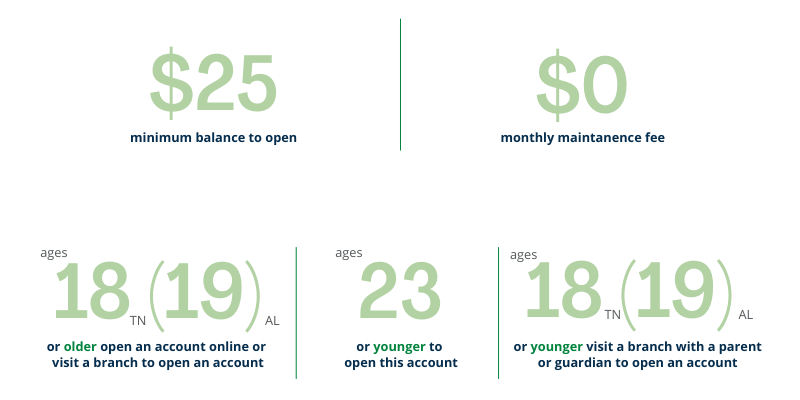 Required Forms of Identification (to open a checking account):
Non-Minors (age 18 and older in TN, age 19 and older in AL) 

1 primary form of ID** and

1 secondary form of ID**

Minors (age 18 and under in TN, age 19 and under in AL)

2 secondary forms of ID for minor**

Parent or guardian valid Driver's License with correct address or other primary form of ID and current utility bill (showing current address)

**
Add a School Spirit Card to Your Checking Account: Learn More Here.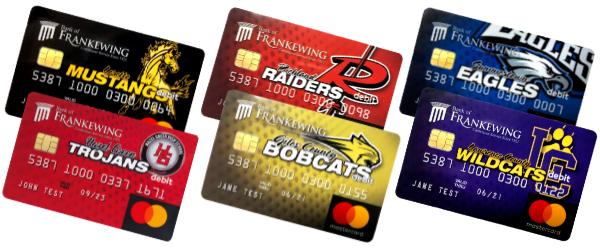 Additional Information
Frank's Student Checking is available for students ages 14 to 23. On your 24th birthday, your account will no longer be eligible for a student account and will be converted to a Frankly Free checking account.  All students under the age of 18 (Tennessee) or 19 (Alabama), or the required age in your state, must have a parent or guardian as a multiple-party account owner.  Customer must agree to receive statements and notices electronically. 
Minimum opening deposit of $25 is required to open this account. Certain terms, conditions and exclusions may apply. Consult with a Bank of Frankewing personal banker or refer to the Truth in Savings disclosure for information regarding specific products.
*To utilize mobile banking, mobile deposit you will have to enroll in online banking.  When you create an online banking login, you will be then be able to access your account via mobile banking with the same login information through the Bank of Frankewing App.
**Primary forms of ID
Driver's License or State ID Card

Passport

Permanent Resident Card (Green Card)

Firearms Permit

Police, Civil Service, Military Identification

U.S Visa

 
Credit Card with picture and signature

Employee ID with picture and signature

Health Care/Insurance Card (containing a name and member number)

Current Utility Bill (showing current address)

Student ID with picture and signature

Current Credit Card Bill (showing current address)

Birth Certificate or Marriage Certificate




Pay Stub (current)

Vehicle Registration

ITIN Card (non-U.S Person)
Apple Pay is a registered trademark of Apple Inc.
Bank of Frankewing debit cards are offered through MasterCard. MasterCard is a registered trademark of MasterCard International Incorporated.